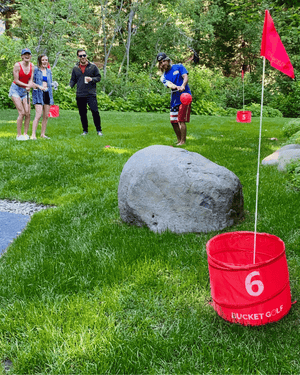 We're here to take your parties, vacations, camps and sunday fundays to a whole new level.

THE ULTIMATE OUTDOOR GOLF GAME


BucketGolf is a portable par 3 golf game that combines the excitement of golf with the ease of backyard games. Simply custom design your course in minutes and tee off for bragging rights.
OVER 25,000 HAPPY PLAYERS
★★★★★

Easy to set up the course (we made sure there were "hazards" like trees or a lawn chair to spice things up). We ahead a blast! Also the carry bag is big enough for everything and it is lightweight.

Elizabeth Pilnik

Miami, FL
★★★★★

This is the best out door game ever. We have every outdoor game there is but this will be our new go to game. This will take the place of our Sunday corn hole that is how much fun this game is. A must buy you will not be disappointed

Carrie Magee

Crossville, TN
★★★★★

33 degrees and on their third round. Great gift for golf obsessed New Englanders that can't play in the winter. Happy new year!

Craig D

New England
★★★★★

We set this game up every single time we have people over and it's always a huge hit. Nearly everyone asks where they can buy it for themselves, we just added a 2nd to have 18 holes.

Sam S

Dallas, TX
★★★★★

BG was a big hit this past weekend! Seemed it was being used for games or just practicing every day! And my sister already order a set for her families vacation home.

Mark Satter

Roaming Shores, OH
★★★★★

Fun game! Easy to set up and tear down. The poles help to keep the baskets from blowing over in the wind which is a bonus because I didn't think of that when I chose a beautiful breezy day to play

Sherri Dunning

Eden Prairie, MN
THE EXCITEMENT OF GOLF MIXED WITH THE EASE OF YARD GAMES
EASY TO LEARN GREAT FOR ALL LEVELS
HOW TO PLAY
ENDLESS HOURS OF FUN & COMPETITION
SHOP THE GAME
PLAY GOLF ANYTIME ANYWHERE
LEARN MORE